Table of Contents
Graphics Packs
RomVault supports custom graphics packs. A graphics pack allows you to replace most RomVault images so you can personalize to your liking. Anyone is free to create their own packs for their personal use or to share with others.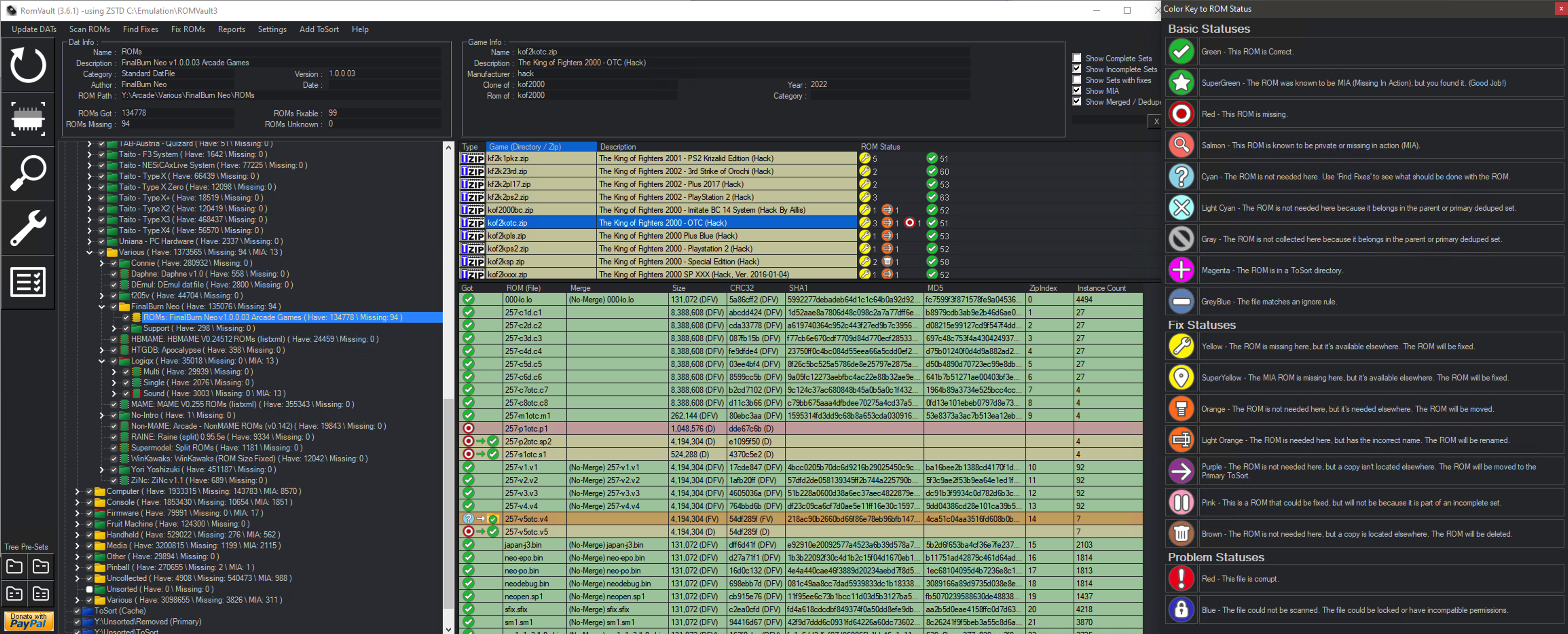 (Metro Dark theme using dark mode)
Downloads
The following packs have been created by the community for anyone to use. If you have a graphics pack you would like to share please reach out on Discord so it can be featured here.
How to Use
Custom graphics should be placed in ZIP archive named graphics.zip or in a folder called graphics in the RomVault directory.
Image Specifications
All images should be in PNG format with transparent backgrounds. For compatibility, its recommended to use image dimensions that match the default graphics. The table below outlines all supported image filenames:
| Filename | Dimensions | Usage |
| --- | --- | --- |
| btnFindFixes_Disabled.png | 80 x 80 px | Side Bar |
| btnFindFixes_Enabled.png | 80 x 80 px | Side Bar |
| btnFixFiles_Disabled.png | 80 x 80 px | Side Bar |
| btnFixFiles_Enabled.png | 80 x 80 px | Side Bar |
| btnReport_Disabled.png | 80 x 80 px | Side Bar |
| btnReport_Enabled.png | 80 x 80 px | Side Bar |
| btnScanRoms_Disabled.png | 80 x 80 px | Side Bar |
| btnScanRoms_Enabled.png | 80 x 80 px | Side Bar |
| btnUpdateDats_Disabled.png | 80 x 80 px | Side Bar |
| btnUpdateDats_Enabled.png | 80 x 80 px | Side Bar |
| default1.png | 80 x 80 px | Side Bar |
| default2.png | 80 x 80 px | Side Bar |
| default3.png | 80 x 80 px | Side Bar |
| default4.png | 80 x 80 px | Side Bar |
| Dir.png | 48 x 48 px | Game List Grid |
| DirectoryTree1.png | 48 x 48 px | DAT Tree |
| DirectoryTree2.png | 48 x 48 px | DAT Tree |
| DirectoryTree3.png | 48 x 48 px | DAT Tree |
| DirectoryTree4.png | 48 x 48 px | DAT Tree |
| DirectoryTree5.png | 48 x 48 px | DAT Tree |
| DirMissing.png | 48 x 48 px | Game List Grid |
| ExpandBoxMinus.png | 9 x 9 px | DAT Tree |
| ExpandBoxPlus.png | 9 x 9 px | DAT Tree |
| G_CanBeFixed.png | 48 x 41 px | Game List Grid, Color Key |
| G_CanBeFixedMIA.png | 48 x 41 px | Game List Grid, Color Key |
| G_Correct.png | 48 x 41 px | Game List Grid, Color Key |
| G_CorrectMIA.png | 48 x 41 px | Game List Grid, Color Key |
| G_Corrupt.png | 48 x 41 px | Game List Grid, Color Key |
| G_CorruptCanBeFixed.png | 48 x 41 px | Game List Grid, Color Key |
| G_Delete.png | 48 x 41 px | Game List Grid, Color Key |
| G_DirCorrupt.png | 48 x 41 px | Game List Grid, Color Key |
| G_Ignore.png | 48 x 41 px | Game List Grid, Color Key |
| G_Incomplete.png | 48 x 41 px | Game List Grid, Color Key |
| G_InToSort.png | 48 x 41 px | Game List Grid, Color Key |
| G_Missing.png | 48 x 41 px | Game List Grid, Color Key |
| G_MissingMIA.png | 48 x 41 px | Game List Grid, Color Key |
| G_MoveToCorrupt.png | 48 x 41 px | Game List Grid, Color Key |
| G_MoveToSort.png | 48 x 41 px | Game List Grid, Color Key |
| G_NeededForFix.png | 48 x 41 px | Game List Grid, Color Key |
| G_NotCollected.png | 48 x 41 px | Game List Grid, Color Key |
| G_Rename.png | 48 x 41 px | Game List Grid, Color Key |
| G_Unknown.png | 48 x 41 px | Game List Grid, Color Key |
| G_UnNeeded.png | 48 x 41 px | Game List Grid, Color Key |
| G_UnScanned.png | 48 x 41 px | Game List Grid, Color Key |
| R_InDatCollect_CanBeFixed.png | 61 x 20 px | ROM Details Grid |
| R_InDatCollect_Correct.png | 61 x 20 px | ROM Details Grid |
| R_InDatCollect_Corrupt.png | 61 x 20 px | ROM Details Grid |
| R_InDatCollect_CorruptCanBeFixed.png | 61 x 20 px | ROM Details Grid |
| R_InDatCollect_Delete.png | 61 x 20 px | ROM Details Grid |
| R_InDatCollect_Incomplete.png | 61 x 20 px | ROM Details Grid |
| R_InDatCollect_Missing.png | 61 x 20 px | ROM Details Grid |
| R_InDatCollect_MoveToCorrupt.png | 61 x 20 px | ROM Details Grid |
| R_InDatCollect_MoveToSort.png | 61 x 20 px | ROM Details Grid |
| R_InDatCollect_NeededForFix.png | 61 x 20 px | ROM Details Grid |
| R_InDatCollect_UnScanned.png | 61 x 20 px | ROM Details Grid |
| R_InDatMerged_Corrupt.png | 61 x 20 px | ROM Details Grid |
| R_InDatMerged_Delete.png | 61 x 20 px | ROM Details Grid |
| R_InDatMerged_Deleted.png | 61 x 20 px | ROM Details Grid |
| R_InDatMerged_MoveToCorrupt.png | 61 x 20 px | ROM Details Grid |
| R_InDatMerged_MoveToSort.png | 61 x 20 px | ROM Details Grid |
| R_InDatMerged_NeededForFix.png | 61 x 20 px | ROM Details Grid |
| R_InDatMerged_NotCollected.png | 61 x 20 px | ROM Details Grid |
| R_InDatMerged_UnNeeded.png | 61 x 20 px | ROM Details Grid |
| R_InDatMerged_UnScanned.png | 61 x 20 px | ROM Details Grid |
| R_InDatMIA_CanBeFixedMIA.png | 61 x 20 px | ROM Details Grid |
| R_InDatMIA_CorrectMIA.png | 61 x 20 px | ROM Details Grid |
| R_InDatMIA_Corrupt.png | 61 x 20 px | ROM Details Grid |
| R_InDatMIA_CorruptCanBeFixed.png | 61 x 20 px | ROM Details Grid |
| R_InDatMIA_MissingMIA.png | 61 x 20 px | ROM Details Grid |
| R_InDatMIA_MoveToCorrupt.png | 61 x 20 px | ROM Details Grid |
| R_InDatMIA_UnScanned.png | 61 x 20 px | ROM Details Grid |
| R_InDatNoDump_Correct.png | 61 x 20 px | ROM Details Grid |
| R_InDatNoDump_NotCollected.png | 61 x 20 px | ROM Details Grid |
| R_InToSort_Corrupt.png | 61 x 20 px | ROM Details Grid |
| R_InToSort_Delete.png | 61 x 20 px | ROM Details Grid |
| R_InToSort_Deleted.png | 61 x 20 px | ROM Details Grid |
| R_InToSort_InToSort.png | 61 x 20 px | ROM Details Grid |
| R_InToSort_MoveToCorrupt.png | 61 x 20 px | ROM Details Grid |
| R_InToSort_NeededForFix.png | 61 x 20 px | ROM Details Grid |
| R_InToSort_UnScanned.png | 61 x 20 px | ROM Details Grid |
| R_NotInDat_Corrupt.png | 61 x 20 px | ROM Details Grid |
| R_NotInDat_Delete.png | 61 x 20 px | ROM Details Grid |
| R_NotInDat_Deleted.png | 61 x 20 px | ROM Details Grid |
| R_NotInDat_Ignore.png | 61 x 20 px | ROM Details Grid |
| R_NotInDat_MoveToCorrupt.png | 61 x 20 px | ROM Details Grid |
| R_NotInDat_MoveToSort.png | 61 x 20 px | ROM Details Grid |
| R_NotInDat_NeededForFix.png | 61 x 20 px | ROM Details Grid |
| R_NotInDat_Rename.png | 61 x 20 px | ROM Details Grid |
| R_NotInDat_Unknown.png | 61 x 20 px | ROM Details Grid |
| R_NotInDat_UnScanned.png | 61 x 20 px | ROM Details Grid |
| SevenZip.png | 68 x 34 px | Game List Grid |
| SevenZipCorrupt.png | <68 x 34 px | Game List Grid |
| SevenZipMissing.png | <68 x 34 px | Game List Grid |
| SevenZipT7Z.png | <68 x 34 px | Game List Grid |
| SevenZipTZ.png | <68 x 34 px | Game List Grid |
| TickBoxLocked.png | 13 x 13 px | DAT Tree |
| TickBoxTicked.png | 13 x 13 px | DAT Tree |
| TickBoxUnTicked.png | 13 x 13 px | DAT Tree |
| Tree1.png | 48 x 41 px | DAT Tree |
| Tree2.png | 48 x 41 px | DAT Tree |
| Tree3.png | 48 x 41 px | DAT Tree |
| Tree4.png | 48 x 41 px | DAT Tree |
| Tree5.png | 48 x 41 px | DAT Tree |
| Zip.png | <68 x 34 px | Game List Grid |
| ZipCorrupt.png | <68 x 34 px | Game List Grid |
| ZipMissing.png | <68 x 34 px | Game List Grid |
| ZipTZ.png | <68 x 34 px | Game List Grid |
| ZipTZCorrupt.png | <68 x 34 px | Game List Grid |
Video Tutorial
graphics_packs.txt · Last modified: 2023/06/24 15:23 by johnsanc
---