Table of Contents
RomVault Setup
How to download and setup your first RomVault system.
RomVault is a standalone executable without an installer. You can run RomVault from any location you like, but it must have write access to that location. Do not put RomVault in the Windows "Program Files" directory.
Installing RomVault
RomVault runs from a single .exe file and so does not have a full install, you can simply download the latest RomVault version from www.romvault.com and then extract this zip file to the location where you would like to start collecting/sorting your ROMs:

You can double click on ROMVault3.exe and it should run, if it does not startup you will need to check that .net framework 4.7.2 is installed.
Setting Up Directories
There are 3 Directories that RomVault needs to work, you should initially create these 3 directories:

If you are brand new to RomVault, it is worth spending a little time here understanding how RomVault works with these directories.
DatRoot
Lets say you want to collect MAME ROMs, Raine ROMs and the full TOSEC collection. To do this you build the directory structure you want to use in the DatRoot directory, so maybe put your arcade games roms in a directory called Arcade, and then a separate directory For TOSEC:
DATRoot

Arcade

TOSEC

… All Tosec DATs (also use the Tosec directory scripts to set these up)
Remember: This is setting up your collection directory structure just using DATRoot and your DAT files. If you just want to quickly fix a MAME set and nothing else you this can be as simple as:
Once you have setup this DATRoot directory structure start up RomVault and click the 'Update DATs' button on the left hand side, and you will see the tree structure appear in the RomVault UI.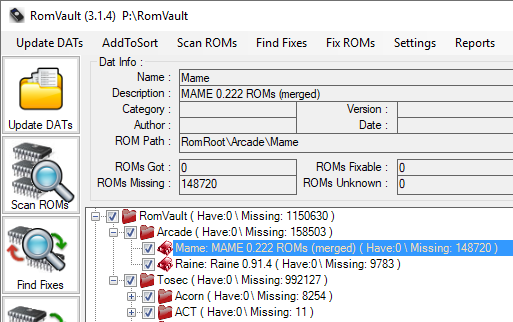 RomRoot
This is your main ROM directory where your ROM files will actually be stored. As RomVault finds and fixes ROM sets RomVault will recreate the same directory structure that you just created from DatRoot into the RomRoot directory, and will create correct sets of zip files to match your DATs in those RomRoot directories.
ToSort
This is the directory where you put the ROM files you would like RomVault to use to build your main ROM sets. So lets say you have an old out of date MAME ROM set, copy a few (maybe 20) of those files into the ToSort folder, and then in the RomVault UI follow these 3 steps:
Click on Scan ROMs, This will scan into RomVault all the ROMs in the ToSort folder. Click on ToSort in the Tree and you will see all the files it just found.
Next Click on Find Fixes, This step calculates all the files RomVault can use to fix your sets. After this step completes click on the rows in your tree and you should see a number of ROMs in MAME and Raine have changes from Red (Missing) to Yellow (Can be fixed.) At this point no files have moved, instead RomVault is just showing what it can do to fix.
Finally click on Fix ROMs, and the magic of RomVault will fire up!! You will now see that RomVault will take your old MAME set and rebuild what it can into your main MAME directory set, and also your main Raine directory set.
If after this step anything is left in ToSort, these are files that are not needed or recognized in any of your DAT sets you are collecting.

Now to see this working again, you can move more of your old MAME set into the ToSort Directory, and click down the above 3 buttons again, and now you can see RomVault maintaining multiple DAT sets, and now the slippery slope of ROM collecting has truly begun for you. (Good Luck!)
Next page goes into more details about each of the main Side Buttons
install_and_setup.txt · Last modified: 2023/11/29 05:57 by johnsanc
---